CLEARNAV TAKES THE POTENTIAL OF COCKPIT NAVIGATION TO NEW HEIGHTS.

The ClearNav Flight Computer with Secure Recorder
An integrated cockpit navigational instrument and display providing full situational awareness for glider pilots.

Features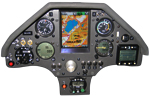 Glide Amoeba dynamically displays alternate landing areas;




accounting for altitude, terrain, glide performance and winds.

Focus on flying with the Turn Area Task Management feature - stop making distracting, constant adjustments and inputs in the air

Right-Sized: 5 ½" diagonal display provides more than twice the viewing area of a PDA yet mounts easily on or in front of the panel without obstructing other instruments.

Bright: So bright it has to be seen to be believed. Easily readable in full sunlight, at all sun angles.

Adjustable: Lowest brightness setting is still far brighter than any PDA but conserves power while max setting provides visibility in even the most demanding light situations.

Efficient: Draws just 350 milliamps on lowest brightness setting up to 650 on max brightness setting.

Sophisticated software functions: The NK ClearNav comes preloaded with NK ClearNav software, a highly evolved version of the proven Glide Navigator software. This software




offers everything you would expect from advanced soaring specific




software and more.
The ClearNav's controls are so intuitive they can be operated by touch alone.



The remote control module brings the buttons to the pilot, eliminating awkward reaching.


(Stick mounted option also available.)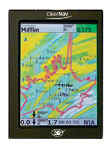 ClearNav's unique visual presentation
of all areas you can reach given current conditions. This instantly understandable graphical presentation of your landable footprint takes altitude, glider polar, wind and terrain into account and also depicts your reachable footprint above a user-settable arrival altitude.
Moving map with
selectable layers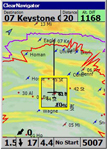 Moving map shows just the right degree of contour and terrain information, together with clear display of airports and turnpoints.
User settings allow you to show or suppress selected details as desired.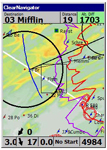 Includes intuitive area task
optimization through clearly drawn turn point arcs.
Airspace monitor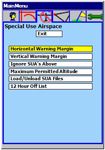 Visual display of all SUA's, with audio proximity alarms and easily accessed details.

| | | |
| --- | --- | --- |
| The ClearNav is available with a selection of mounting options. Choose the best method to fit your ship's needs. | Behind Panel Mount | Through Panel Mount |
| On Panel Mount | RAM Mount | Tunnel Mount |
We are sure the ClearNav will be one of the best additions to your instrument panel. If you have any questions, please do not hesitate to ask. We've recently revised the Soaring section of our website, updated our dealer listing and are still busy making it better every day! We welcome your comments and suggestions.

Best Regards,

Clearnav

Soaring Customer Service Team